As a poet I have always been interested in language's energetic components, how we can get in the way of the energy of a poem and how when we step aside the poem can sometimes write itself. OK, so that's rare. But it happens. So what is present in us and in language when grace happens?
In 2006 I began a course of study in somatics at Strozzi Institute that was a natural outgrowth of my many years of training in the martial art aikido and my many years of expressing myself through the language-medium of poetry. I'm fascinated with the relationship between how we live in our bodies and what we bring forward in our voices and our expression in the world. I wanted to understand in a more conscious way that remarkable relationship between body-knowing and intellectual knowing.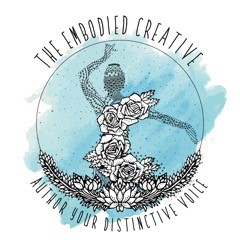 I will never forget the day I felt in my own body that my writing was originating from an entirely new physical location – from belly rather than head. This occurred after I had been intensely training in aikido, an art whose focus is centering in the face of conflict. Cultivating hara, that center of the physical body, on the mats meant that hara became available to me when sitting at my writing desk–remarkable!
Now as a certified Master Somatic Coach and Presence-Based Coach, I work with individuals to help them know the sound and feel of their own voices rising. To align with their deepest purpose. To authentically express themselves, in writing and in life. There certainly is a river of words going through our lives at all times. But how do we relate to language and embody it? How do we enter the river? Our voices define us, yet it is possible to break out of an old voice into a new, more unfamiliar one. Language vivifies all it touches, and others respond to the way we embody our words. I believe that we can align our deepest desire and knowing with our language and with our bodies. Through such alignment, we shape the river.
This blog post is a nod to the original name of my coaching business, "River of Words." Although I still love the feel of this name, I wanted a name that speaks to a broader sense of embodiment — not just words, although words are glorious!, but also our whole sense of ourselves as creative beings. How to more deeply and widely embody our creative expression — in our work, our relationships, our writing. The Embodied Creative.
In this blog, I will write about specific issues that arise in somatic work and in writing. I welcome questions!